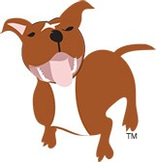 Videos
So, let's talk about Max videos. It's pretty awesome, to be honest. Max has this knack for making videos just for fun, and he decided to get some kids involved in talking about his books. And you know what? It works! These videos are not only entertaining but also informative. It's really cool to see kids sharing their thoughts and opinions on Max's books because it gives you a fresh perspective as a viewer. Plus, the casual vibe of these videos makes them really relatable. You can tell they're just having a good time and genuinely enjoying themselves while discussing the stories. Kudos to Max for coming up with such a unique and engaging way to showcase his work! Now, he says to sit back relax and enjoy!
Max Meets Rachael Ray
Hey guys, check out this awesome video where Max gets to hang out with the famous Rachael Ray! You probably already know that Rachael Ray is a huge fan of pitbulls. She's so cool that she even featured Max's book, called Max the Shelter Dog, on her show. And guess what? Max's book is not just any ordinary book, it's a gift that actually helps others. How amazing is that? Max is super grateful for this incredible opportunity!
Children Discussing Max the Shelter Dog
These kids were excited as they shared their thoughts and feelings about the book Max the Shelter Dog. They were so invested in the characters and their journey that it felt like they had a personal connection to them. It was amazing to see how animated they became when discussing what happened to Max. They pointed out important life lessons like empathy, compassion, and acceptance that they learned from Max's journey through the shelter system. It was refreshing to witness young minds engaging so passionately with literature, showcasing just how impactful storytelling can be on these little ones' lives.
7 year-old Discussing Max the Shelter Dog
This video is of 7-year-old kid sharing their thoughts on Max the shelter dog. It is absolutely heartwarming! This little munchkin, with their innocent and honest perspective, gave the book an honest take. They talked about how they felt about, Max, and his journey from being a lonely shelter dog to finding a loving home. The child expressed empathy towards Max's situation in his own special way and shared how the story made them feel happy and hopeful. It's just incredible to see such young minds connecting with literature in such an emotional and genuine way. This video is truly a testament to the power of storytelling and its ability to touch hearts across all ages.
9 year-old Discussing Max the Shelter Dog
A little more intense than the above is this video of a 9 year-old talking about the book Max the Shelter Dog. The look on her face is telling as her mother points out what the needle and going to the table are really about. Undoubtedly, she comes away with a new understanding of the importance of adopting from shelters and an even greater compassion for animals. This video clearly demonstrates the undeniable power of storytelling and how it can deeply resonate with individuals of all ages.
Willamena the Rescue Mouse in the Flesh!
In this fun-loving and quick video, you will witness the super cute mouse Willamena, who became the inspiration for the super cool children's book called Willamena the Rescue Mouse. This little mouse was full of energy and always up to some mischief, as you will see!
Book Trailer
This video is a book trailer for the children's book First Grade Short Vowel Sounds - Max's Mini Spelling Book." It features pictures and lessons from the book and shows how Max has inspired each of the lessons in the book. Max is always sure to have a hand in everything that the nice lady does. He wants to put his stamp of approval on all of it! And that's a good thing, because he makes things fun and interesting.
Just for Fun! Mural of Max
Here is a "just for fun" video used to promote Max: a short clip of Max being spray painted on a cobblestone wall, inspiring readers to pick up a copy of his book and change a life by reading Max's story in Max the Shelter Dog.
Max Loves All Animals
Here's another short video just for fun. Max shares his passion for all animals by introducing some of them in this video. The goal of this video is to be an inspiration for the love of all creatures: the music is cool, too!
Max Loves His Lil Sis Willamena
Max is like a superhero for animals, even his little sister Willamena! Willamena is always up to mischief, but Max is like her guardian angel, making sure she doesn't go too crazy. He keeps an eye on her, makes sure she's safe, and even lets her have a snack on his head because he loves her so much.